Faller bars and faller strips from Gellrich+Habiger
Special steel needles fitted on textile machinery elements such as faller bars can also be found in the wool and synthetic fiber industry.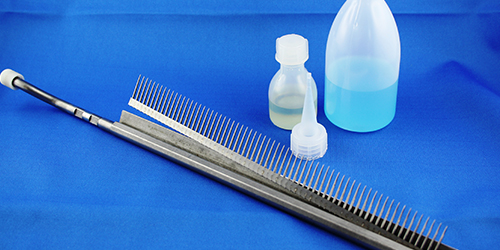 Often it is the small details that make all the difference. Especially in the textile industry – here thousands of steel needles or alternatively stainless steel needles make all the difference. Gellrich+Habiger pin inserts excel not only through their particularly precise manufacturing, but also due to their simply handling and endurance. Due to our extensive experience and expertise in the production of various components for textile engineering we can ensure highest precision in the production and manufacture of customized spare parts or textile machinery accessories.

Easy handling of textile machine elements from Gellrich+Habiger.

We pay extreme attention to maximum quality regarding the materials used by us and the manufacturing process. In addition, we pay special attention to the easy usability of our faller bars, faller strips or other components with textile pins. Therefore, our faller strips have been designed for soldering in or even gluing using epoxy resins.

Solutions inspired by practical applications in the textile industry.

The particularly smooth surface of the adhesive surface of the pin tools from Gellrich+Habiger ensures a faultless running of machine due to the reduced winding angle. In addition, our proven adhesion system provides a perfect discharge of electrostatic charge and endurance.
Of course, our range of faller strips is complemented by respective faller bars (pinned or not pinned) for various systems. Special products according to your specifications and requirement can be provided by us on short notice.

Faller strips, faller bars and high-quality textile machine accessories.

If you have any questions or require further information on our products, or if you need a customized solution or product please do not hesitate to get in touch with our team, who will be pleased to assist you quickly and competently.